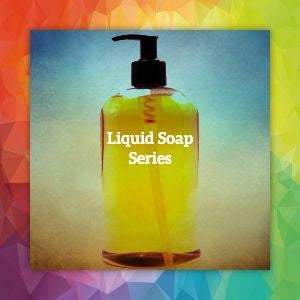 Green Girl Basics
NEW Liquid Soap Making Series 4 classes: 09/09, 09/16, 09/23, 09/30
Regular price
$ 575.00
Sale price
$ 600.00
Unit price
per
Tax included.
Liquid soap classes are now available!  We will be building our liquid soap knowledge each Saturday 2 PM to 4 PM. 
This comprehensive liquid soap series will teach you the art of all things liquid soap. You will learn three different comprehensive liquid soap methods. Liquid soap is considered an advanced soap making class.  It is recommended you take the Soap Making Series prior to this course, and/or have some experience and confidence making cold process and/or hot process soap before signing up. If in doubt, contact Colleen at ColleenTrickett@GreenGirlBasics.com or at 828-280-1125.
Learn how to create shower gel, dish soap, laundry soap, body wash, facial cleanser, liquid cleaners, a soft scrub inspired cleanser, soft soap inspired hand soap, bubble bath, and more! 
This is not a class where you learn how to mix detergents and surfactants together and call it liquid soap. We will NOT be working from pre-made bases rather making everything from scratch. Learn a highly practical and profitable life skill in this course. Take your business to the next level!

If you are not ready to commit to the series, take the first class of the series, Liquid Soap for beginners on 09/02/23 and see if it is for you. 

Payment plans are available. Contact Colleen at ColleenTrickett@GreenGirlBasics.com for more information.
---