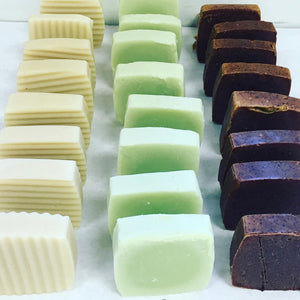 Green Girl Basics
Soap Making Kit
Regular price
$ 30.00
$ 0.00
Unit price
per
Tax included.
We have pre-measured each ingredient needed in the soap making process in a convenient and ready made soap making kit. All you need is 7 oz of ice water and you are ready to make your own soap. Use this kit along with our 36 minute pre-recorded Soap Making Made Simple course (on sale for just 15.00) and you will have everything you need to make 7-8 bars of plant-based soap with a creamy, fluffy, moisture-rich lather. Select your choice of scent and color with the drop down menu.
Ingredients: Olive oil, Ricebran oil, Organic Coconut oil, Sodium hydroxide (lye), Organic Palm oil, Castor oil, Organic Shea butter, scent, & natural colorant. 
Take a trip to a thrift store or to The Dollar Tree:

Plastic pitcher for lye (4 cup capacity) 
Plastic pitcher to combine oils, lye, scent, and color 6-8 cup capacity 
Plastic Spoon
Spatula 
Whisk or stick blender
Chemical goggles
Vinyl gloves (the ones for washing dishes which cover forearms) 
Soap Mold: Up-cycled quart waxed cardboard container such as an empty broth container, almond milk, creamer, Pringle's can, empty quart Ice cream container, any small box or plastic container lined with a up-cycled plastic bag. 
---