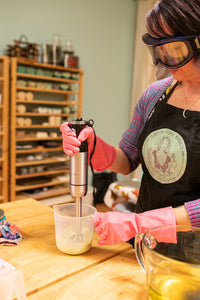 Benefit your health and the environment with practical life skills!
Green Girl Basics offers practical life skills which empower you to make safe, sustainable, and cost-effective hair, face, bath, body, and household cleaning and wellness products. We want you to have full knowledge and control over hazardous ingredients found in commercial products. If you are using healthy alternatives, you are avoiding unnecessary chemicals every single day and protecting your loved ones from potential health problems.
Make and take home natural handmade products with customizable, eco-friendly, healthy ingredients. Our classes empower you with a holistic approach, promoting ingredients to encourage wellness and a sustainable lifestyle. We make learning interactive and fun while reducing waste, eliminating toxic chemicals, conserving energy, supporting local and organic agriculture, assisting clean waterways, recycling, and upcycling.
Foster a sense of community in a group class or learn one-on-one in our Roswell, Georgia studio! Online classes are coming soon, eliminating the long drive or need to book a flight to learn with an expert.
Receive in-depth step-by-step guidance from Colleen Trickett, a patient and knowledgable instructor with 23 years of experience with tried and true recipes to share!
Book the entire Green Girl Basics studio for your team building event, wellness retreat, or to celebrate a special event!
Be sure to follow Green Girl Basics on Instagram, Facebook, and our new YOUTUBE channel! Subscribe to our email newsletter, and SMS messages to receive special offers, discount codes and stay informed on impromptu classes and events!
What products can you replace?