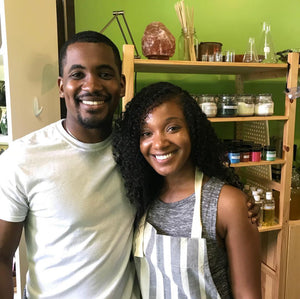 Green Girl Basics
SALE! Private 2 hour instruction FOR TWO!
Regular price
$ 280.00
Sale price
$ 600.00
Unit price
per
Tax included.
Design your own learning experience for two with Colleen Trickett, a maker & instructor with 24 years of hands on experience.
A private class for two is a great option when:
-Our Thursday or Saturday group classes do not align with you and your friend/partner's schedule.
-You want to celebrate an occasion, share interests, or build business skills with dedicated time for just you and your friend/partner.
-You are traveling a long distance and want to learn as much as possible in a day (or two) with a friend/partner. You can add more than one 2 hour session if needed.
-You are already making soap and herbal body care products but want to trouble shoot, fine tune, and build on your knowledge so you can both take your business to the next level. 
Please select your time based on availability shown in calendar when you check out or reserve your time over the phone. If you have any questions prior to booking, please call or text 828-280-1125 or email colleentrickett@greengirlbasics.com. 
We are currently offering 70.00/hr per participant, 140.00/hr when you schedule 2 hours for two people which offers an excellent opportunity on a budget. 
Here is our list of classes:

1. Soap Making Made Simple
2. Salt Soap Making
3. Milks Soaps & More
4. Laundry Soap & Natural Household Cleaners 
5. Soap Salvage & Beautify
6. Soap Formulation: Design & Swirl 
7. Hot Process Soap Making
8. Intro to Cold Process Liquid Soap
9. Hot Process Liquid Soap: Laundry Soap, Dish Soap, & All-purpose liquid-cleansers
10. Accelerated Liquid Soap Methods & Formulation
11. Duel Lye Soap Making: Whipped Soap, Shaving Cream, & Cream soap
Herbal Body Care & Wellness Classes:
Bath Bombs 
Lotions & Creams 
Herbal Salves & Lip Balms
Serums & Masks 
Emulsified Salt/Sugar Scrubs 
Plant-Based Candles & Custom Scent Blending
Hair Care: Cream Conditioner, Smooth & Shine Serum, & Fortifying Holding Gel 
Beard & Mustache Products 
Mentholated Magic: Shower Steamers, Analgesic Balms & Stress-Free Foot Soak 
Shampoo & Conditioner Bars 
Facial Toners
Facial Moisturizers
Lotion Sticks & Lotion Bars
Perfumes & Colognes
Therapeutic Bath Teas & Soaks 
Medicinal Teas 
Natural Deodorant: Aluminum-Free and safe for all ages
Whipped Body Butter 
Aroma Sprays for Potty, Body, Linen, & Room 
Intro to Essential Oils 
Shaving Product Formulation for Sensitive Skin (HP Soap experience needed)
Natural Sunblock 
Natural Pain Management 
Face & Body Oils 
---