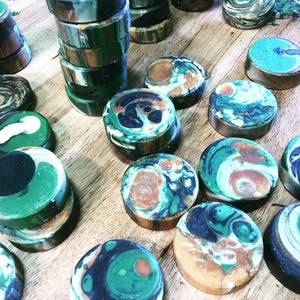 Green Girl Basics
Soap Formulation: Swirls & Design 09/23/23
Regular price
$ 150.00
Sale price
$ 175.00
Unit price
per
Tax included.
Saturday, September 23, 11:00 AM-1:30 PM
This is an advanced soap making class. You have learned how to make soap, now it's time to take it to the next level and learn how to swirl, formulate, and design.
Have you ever gone to make a batch of soap and it went from zero to thick in seconds? Are swirls challenging so you stick with the tried and true? Learn how to change your soap making game with new concepts, a better understanding of soap ingredients, tips and tricks of coloring, temperature, and the many variables which help you sort your soap swirling and design game for professional swirls every time. 
All information is presented in a simple and user-friendly hands-on method. 
Leave with 2 pounds of soap and soap swirling and designing confidence for life!
Class includes handouts with recipes and helpful information.
All you need to bring is an apron, latex or vinyl gloves (the kind used for washing dishes) and your creativity.
---