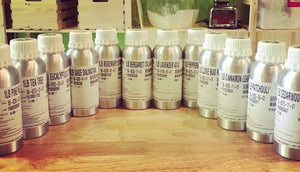 Green Girl Basics
Introduction to Essential Oils 10/05/23
Regular price
$ 57.00
Sale price
$ 75.00
Unit price
per
Tax included.
Thursday, October 5, 7 pm to 9 pm
In a world where essential oils are all the rage, there is so much misinformation. Learn how to decode marketing ploys and understand what is pure and what is a gimmick. 

How do you know where to buy essential oils? How do you use them? How to you blend them? How do you know which ones are safe for pets, pregnancy, etc....? How much is considered safe usage? How to tell when they have been adulterated! What is the best way to diffuse essential oils? How are essential oils extracted? What essentials are common skin irritants? What warrants the pricing and how to you get the best price for the best essential oils? This class offers guidance from a maker with 24 years of essential oil experience. 
We will be creating our on aromatherapy blends in roll on bottles. 
---